Non-traditional International Higher Education, Virtual University 
Tecana American University (TAU), of the USA, is a recognized private, independent, international, non-sectarian, virtual university, founded in the USA, Member of the United Nations Academic Impact in Action, committed to the new global goal of sustainable development of the United Nations (The United Nations): "Education 2030: Towards inclusive and equitable quality education and lifelong learning for all. Read more.
TAU an international institution of virtual higher education for Open and Distance Education. We provide accessible and quality education for all through online, open and distance learning, bringing inclusive, flexible and quality learning and teaching to all in the digital age.
By its nature Tecana American University, is an educational, private, new generation, virtual (online) and non-traditional institution for Spanish-speaking and English-speaking adults who do not reside in the United States of America, so most of our Students are found in Latin America, Africa, European Community and other parts of the world.
TECANA AMERICAN UNIVERSITY (TAU), of the United States of America, is not a conventional institution. Throughout TAU's evolution as a global virtual private higher education (online) organization, we have administered TAU differently. We have also emphasized an atmosphere of creativity, internationalization and challenge that has helped us provide accurate educational quality and the impartial search for truth for those who trust us around the world. TAU encourages high-level training and research, imposes vigorous admissions criteria and 'discourages the proliferation of  degrees', without due merit and study requirements.
To read about TAU Accreditation in English, click here and then click on the English translation flag
TAU is a virtual organization that does not operate nor offer services or programs in any English-speaking state or country. It only offers non-traditional programs through Internet, aimed at the matured, self-motivated adult of the Spanish-speaking world (not residing in USA), coming from the areas of business, industry, education, and other professions, with previous studies and experiences verifiable by a rigorous admission and studies system, exclusively in Spanish language. Ever since its outset in 2002, TAU performs its mission through cooperation agreements with recognized Latin American organizations for education and research in science, technology, culture, and art in Spanish language, and constituencies of higher educational communities in Europe as well as in North America. The work of TAU and its students is entirely conducted by electronic means utilizing Internet technology, E-mail, telephone, fax, and complemented through mail services. For it, we have competent and well trained personnel for admission as well as professors that perform all their operations online, exclusively in Spanish language and within the following principles:
3.1 Real teaching processes
3.2 Practice of intellectual honesty
3.3 Free stimulation of its students' desire to learn
3.4 Follow-up and observance of the best scientific norms for the disciplines offered
3.5 Consideration for its students as persons, and awareness of their function as intellectual conductors and advisors
3.6 Permanent implementation of all reasonable methods to promote academic honesty, education, and to assure that students' evaluations reflect their true merits.
Students seeking to have documentation of their studies that will be accepted by their employers, professional associations, and other universities, before admission to our programs, must verify that their requirements are compatible with the programs of studies offered by TAU. TAU's programs have an ongoing quality-improvement system in an independent manner. This means that our Board of Directors develops, maintains, and controls a program of excellence within the best standards for Accreditation of Learning by Experience, which includes exacting admission requirements, analysis of applicants' credentials, development and approval by the student of completive programs of studies and special degree works (thesis or dissertation).  Because of its efforts in innovation, quality and research, TAU has been included by IESALC UNESCO Catalog of Latin American and Caribbean initiatives for higher education; and has become and Institutional participant at UNITED NATIONS GLOBAL COMPACT, and is also a member at  UNITED NATIONS ACADEMIC IMPACT IN ACTION.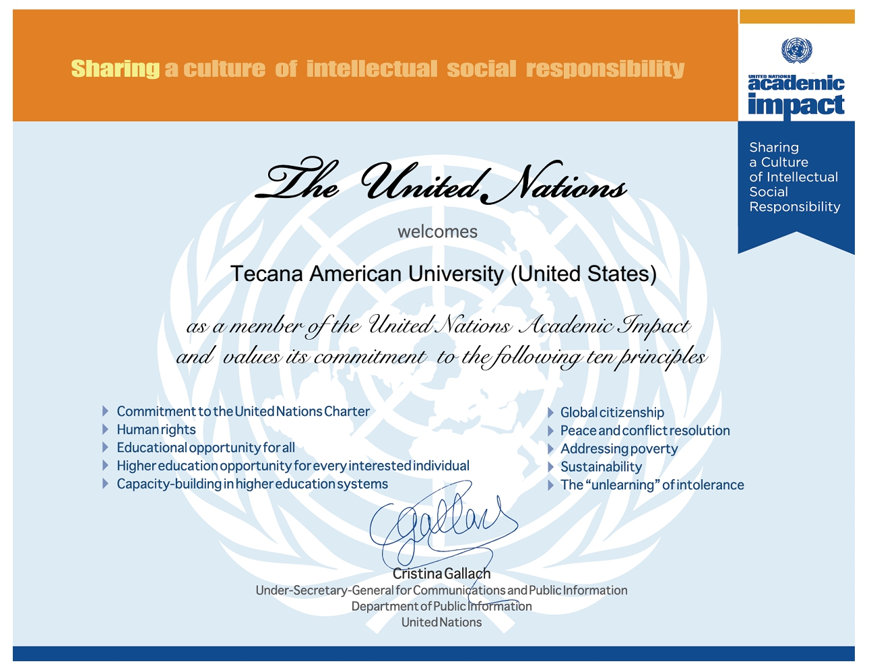 List of participating institutions, see
To enlarge the image click here.
And Participating Member of Global Compact UNITED NATIONS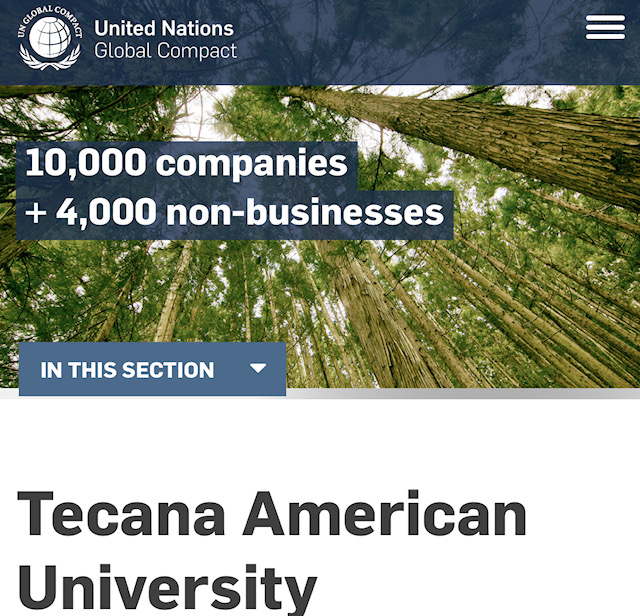 TAU is committed to the new global sustainability development goal UN (United Nations) : «Education 2030: Towards inclusive and equitable quality education and lifelong learning for all».
TAU has been nominated for 2015 International Award "Europe Business Assembly" in science and education sphere, for more information click here.
2016  Dr. Reinaldo Jesus Rivas, President of Tecana American University, has - Been nominated for the Europe Business Assembly Prestigious International Award in education sphere "Manager of the Year" (The official edition of European scientific, business and creative elite). This is in recognition of your excellent reputation, modern educational programmes, high alumni level, outstanding professional experience, important scientific researches and successful management...,more Info. 
When TAU grants a degree is because the graduate has fulfilled all aforementioned requirements demanded by our Examining Board. Proving by its actions a satisfactory performance of ethical operations, its academic and administrative systems, teaching materials, and methods are sufficiently comprehensive and correct, and are updated through ongoing improvements. It has a qualified teaching staff constantly enhanced, and the students' data have a system that maintains them properly kept. It provides teaching and examination services, encourages students, and looks after personal differences. TAU leads in ethical services in search for the highest academic excellence of the non-traditional programs.
TRANSFER STUDENTS
Transferring to TAU from Another Institution
Tecana American University (TAU) will accept credits from Universities properly accredited.
Transferring from TAU to Another Institution
The acceptance of the transfer of credit to another college or university is at the discretion of the transferring school.
                                                                                 "Education is not filling a bucket, but lighting a fire." W. B. Yeats
TECANA AMERICAN UNIVERSITY (TAU)
International Virtual University - Iberoamerica International Programs
A Different Institution: Innovation, Integrity and Academic Quality for Progress
Membershisp & Affiliations: AIEA (Institutional Member 2012-2016);  Affiliated HASTAC Members; WCET (Institutional Member 2002 through June 2012); Merlot.
Mailing Address: Tecana American University, Iberoamerica International Programs, 1451 W Cypress Creek RD, Suite 300 Ft. Lauderdale, FL 33309, USA      
Telephone: 1-(954) 376-7000  |   Fax: 1-(954) 376-7000
e-mail: university@tauniversity.org
IN GOD WE TRUST ... CONFIAMOS EN DIOS
It is a pleasure to inform you that Tecana American University has been selected for the 2020 Best of Hollywood Awards in the Education category. For more details and more information, visit the website https://tauniversity.org/convenios-membresias-e-intercambios